The quick way to undertand PSA Oxygen Generater
The main use of oxygen is to supply respiration and support combustion, it is widely used in metallurgy, chemical, biochemical, medical, aviation, electronics, military and scientific research fields, especially in the medical world, recently some people call oxygen "medicine", especially now the new crown epidemic, it plays a major role. The PSA oxygen concentrator is easy to operate, with little input, and the hospital can generate its own oxygen for clinical use.
1.PSA OXYGEN Generator meaning
Pressure swing adsorption air separation oxygen production could be a new technology to supply oxygen from air.Pressure swing adsorption (PRESSURE SWING ADSORPTION, PSA for short) may be a physical process that approximates isothermal changes. It uses the various adsorption capacities of various components within the gas medium on the adsorbent, and therefore the adsorbent selects when the pressure is increased. Adsorption, desorption and regeneration when the pressure is reduced.Pressure swing adsorption air separation oxygen production generally uses two adsorption towers, the towers are full of zeolite molecular sieve adsorbent.When one adsorption tower is absorbing nitrogen and producing oxygen, the opposite adsorption tower is removing nitrogen and regenerating, in order that oxygen is continuously produced in alternating cycle
2. How psa oxygen works ?
Normal air contains 21% oxygen and 78% nitrogen. The function of an oxygen generator is to produce oxygen from the air, separate the rest of the gas and exhaust it into the air.
The Variable Pressure Adsorption oxygen generator uses 5A zeolite molecular sieves as adsorbent to separate oxygen and nitrogen in the air due to the different adsorption properties of molecular sieves for nitrogen and oxygen. Thus selective adsorption of oxygen in the air. The air is compressed and then coated with an air purification system to remove impurities such as oil and water and fixed dust and then enters the adsorption tower equipped with zeolite molecular sieves, where nitrogen, carbon dioxide and water are adsorbed by the molecular sieves in large quantities and oxygen is separated through the adsorbent due to the large diffusion rate.
3.Psa oxygen generator components
Air compressor, air pretreatment module, air tank, oxygen-nitrogen separating absorber, resultant oxygen buttfer tank, automatic control & detection sytem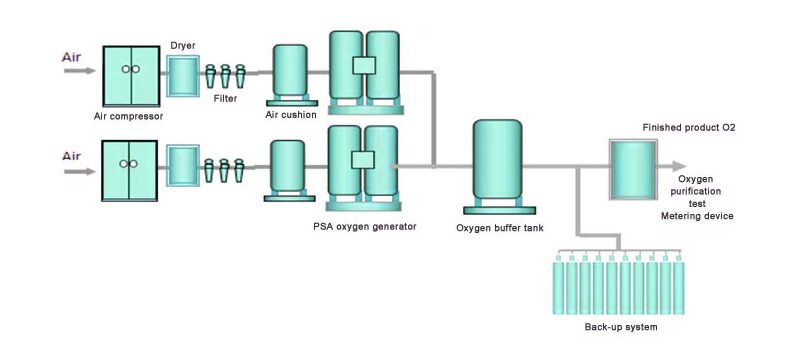 4.PSA oxygen generator model
Model Specifications

MS-QC5

MS-QC10

MS-QC30

MS-QC50

MS-QC100

MS-QC200

MS-QC300

MS-QC400

MS-QC500

Gas processing
(Nm3/h)
5
10
30
50
100
200
300
400
500
Oxygen (%)
=0.5
=0.5
=0.5
=0.5
=0.5
=0.5
=0.5
=0.5
=0.5
Poor nitrogen feed gas Dew point(°C)
=-30
=-30
=-30
=-30
=-30
=-30
=-30
=-30
=-30
Oxygen(ppm)
=5
=5
=5
=5
=5
=5
=5
=5
=5
Afer purication of high
purity Dew point(°C)
-60
-60
-60
-60
-60
-60
-60
-60
-60
Operating pressure
(Mpa)
=0.6
=0.6
=0.6
=0.6
=0.6
=0.6
=0.6
=0.6
=0.6
The reactor temperature
degree(°C)
300~
350
300~
350
300~
350
300~
350
300~
350
300~
350
300~
350
300~
350
300~
350
temperature adsorption
tower(°C)
350
350
350
350
350
350
350
350
350
Power consumption(kw)
4.8
6.8
10.5
15
30
50
60
80
100
Deoxidizer capacity(kg)
10
30
80
100
200
260
380
480
520
Dimensions(m)
(L xWxH)
0.8×0. 5xl.5
1.2×0. 8×2.4
1.5×0. 8×3.0
2.5×1. 5×3.0
3.0×2. 0x4.0
3.0×2. 5×4.0
3.2×2. 5×4.5
3.4×2. 5×4.6
3.6×2. 5×4.6