Skid-mounted pressure vessel
Minsheng is specialized in the design, manufacture, installation of reliable skid-mounted.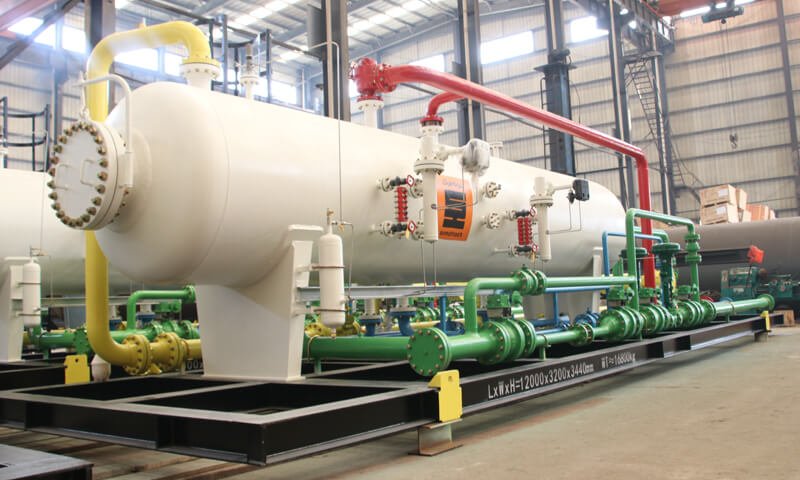 Industrial reactor is widely used in petroleum, chemical industry, rubber, pesticide, dye, medicine, food and other industries. It is a pressure vessel used to complete the curing, nitration, hydrogenation, alkylation, polymerization, condensation and other reaction processes.
The skid mounted pressure vessel process system fixes the storage tank in the frame type vessel frame, designs the process flow according to the module space and space trend, and installs pipes, valves, pumps, instruments, etc. The tank body, pressure vessel, process pipeline, filtration system, vessel frame, etc. in the skid shall be arranged according to the relevant standards, and the complete set of equipment formed through automatic welding and assembly shall be adopted.
We provide a full range of skid-mounted pressure vessel services to customers in the petroleum, chemical, marine, and energy industries, and provide professional service including designing, manufacturing, testing, installation and commissioning. Our manufacturing process integrates all the processes of the entire equipment, from the basic frame to the pressure vessels, pipes, tanks, filtration systems and control panels. We have passed ISO, ASME and CE certification. The skid-mounted process is built by experienced designers, welders, and experts in automation and assembly technology. According to customer needs, we can provide visual production from materials to finished products. As the world's leading pressure vessel manufacturer. We welcome customers from all over the world to visit us.