IBC stainless steel square tank
Minsheng is a leading professional manufacturer of LPG Gas Cylinde, lpg tank in China, we can customize with different types and specifications of Gas Bottle.


Gaseous carbon dioxide is used in carbonation of soft drinks, pH control in water treatment processes, chemical processing, food preservation, inert protection in chemical and food processing processes, welding gas, plant growth stimulator, in casting for hardening moulds and cores and for Pneumatic devices are also used in the diluent of sterilization gas (that is, the mixed gas of ethylene oxide and carbon dioxide is used as sterilization, insecticide, and fumigant, which is widely used in the sterilization of medical equipment, packaging materials, clothing, fur, bedding, etc. , bone meal disinfection, fumigation of warehouses, factories, cultural relics, books).
Liquid carbon dioxide is used as a refrigerant, low temperature testing of aircraft, missiles and electronic components, enhanced oil recovery, rubber polishing and control of chemical reactions, and can also be used as a fire extinguishing agent.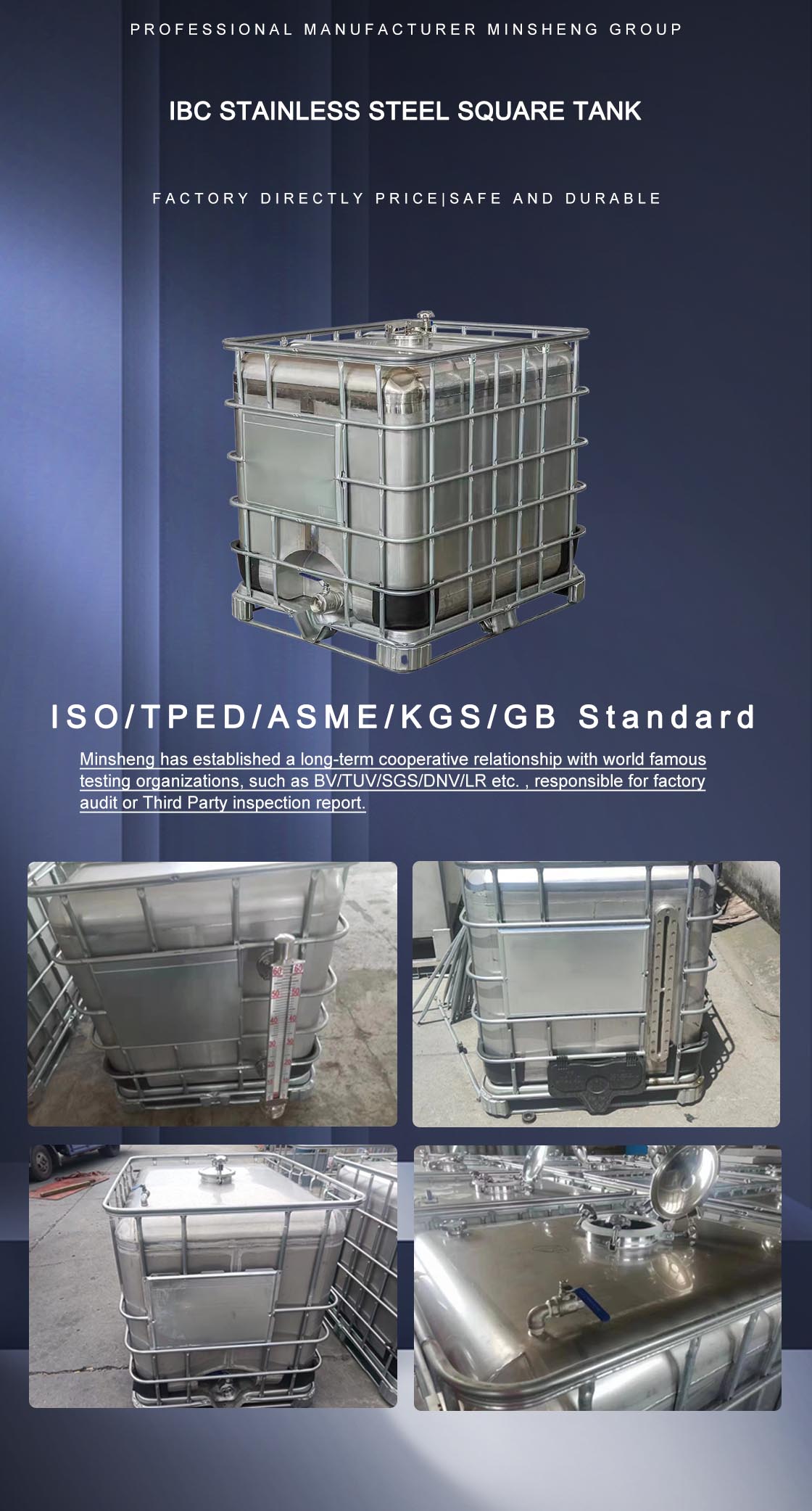 Model
IBC-1000L
IBC-1200L
IBC-1500L
IBC-500L Vertical type
IBC-500L Horizontal type
Structure
All steel type
Nominal/Full mouth capacity (L)
1000
1200
1500
500
500
Approved weight (kg)
130±2kg
115±2kg
128±2kg
65±2kg
65±2kg
Stacking weight (kg)
3900
3900
3900
1600
3900
Maximum allowable weight (kg)
1650
1650
1650
900
1650
Maximum allowable density (g/cm^3)
1.5
Length
1000±5
1000±5
1000±5
1000±5
1000±5
Width
1200±5
1200±5
1200±5
600±5
1200±5
Height
1150±5
1350±5
1650±5
1150±5
700±5
Pallet height
120±5
120±5
120±5
120±5
120±5
Center distance of fork hole
795±5
795±5
795±5
795±5
795±5
Fork height
80±5
80±5
80±5
80±5
80±5
Appearance
Gray
Interior container
Material
SUS304
Manufacturing method
Forging and welding forming
Inner container weight (kg)
65±1
79±1
98±1
42.5±1
42±1
Top thread type
/
Filling diameter (mm)
DN150
Top cap
Size
DN150 atmospheric pressure handhole
Material
SUS304
Gasket material
Tetrafluorowasher
Air release valve
DN20 stainless steel exhaust valve
Drain valve
Type
Material
SUS304
Gasket material
Tetrafluorowasher
Inside diameter of outlet thread
56.5
Tray
Material
Galvanize
Processing method
Stamping
Frame
Material
Galvanize
Processing method
Steel pipe welding, bending after forming assembly