Processing Capabilities
Minsheng has a modern high-standard production plant of 250,000 square meters, a manufacturing capacity of 150,000 tons per year, advanced equipment with a total investment of 50 million DOLLARS, and 328 engineering and technical personnel (covering mechanical design and manufacturing, chemical machinery, welding, materials, heat treatment, automation control, computer information technology and other professional fields). With a strong r & D, design, manufacturing and testing capabilities.
1. Large Storage Tank, Pressure Vessel, Reactor, Heat Exchanger production workshop, the maximum lifting capacity of 600 tons, can manufacture 15 meters diameter of the extra-large Pressure Vessel, including all kinds of Tower Pressure Vessel, Storage Tank, Reactor, Heat Exchanger, LPG Storage Tank, Ammonia Tank, Chlorine Tank, Industry Gas Storage Tank, etc. Customized production can be provided according to ASME/ISO/CE/TPED/KGS/GB and other international standards.
2. Automatic gas cylinder production workshop, annual output of 500W, 18 automatic production lines, according to ISO/CE/TPED/KGS/DOT and other major international standards, according to customer requirements to produce all kinds of volume specifications of high, medium and low pressure gas cylinders. Gas cylinders can be used to fill, store and transport a variety of high, medium and low pressure gases, the main gases such as oxygen, argon, carbon dioxide, nitrogen, helium, hydrogen, natural gas, liquid ammonia, liquid chlorine, sulfur dioxide, ethylene oxide, bromoethylene, bromomethane, liquefied petroleum gas, propane, propylene, acetylene, etc.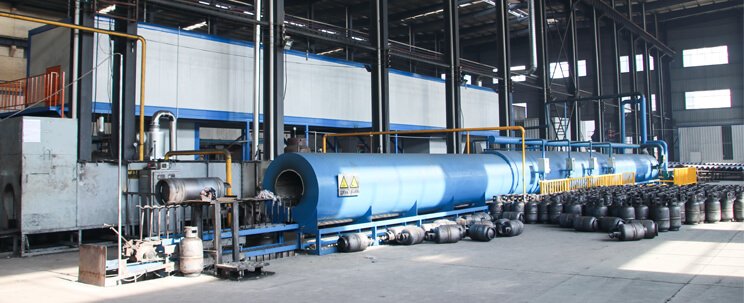 3. Valve automatic production workshop can provide customized services according to ISO/CE/CGA/QF and other major international standards. Production of high, medium and low pressure gas valves, such as liquefied gas valve/oxygen valve/natural gas valve/liquid ammonia valve/liquid chlorine valve, etc. With an investment of $5 million in valve equipment, the company has 3 advanced automatic manufacturing and assembly testing production lines, which are fully automated from copper bar cutting, forging, thread processing, ultrasonic cleaning, assembly and air tightness testing, with an annual output of 8 million.
Minsheng invested $9.5 million to build an internationally leading testing center with more than 2,000 sets of advanced testing equipment. Minsheng Testing Center laboratories have passed IAF and CNAS certification, and carry out strict quality control and testing on each product to ensure the highest durability and use experience.